REGISTER NOW for our 2023 East Coast Buying Show!
Dates: July 17th & 18th
Location: Ocean Place Resort & Spa, Long Branch, New Jersey
Address: 1 Ocean Blvd, Long Branch, NJ 07740
Agenda:
Monday. July 17th: 1:00pm – 7:00pm – Steak & Lobster on the beach dinner after the show!
Tuesday, July 18th: 10:00am – 2:00pm
For access to show deals without attending in person select "Virtual Only" during Registration. Registering for on-site attendance will give you access to both the show deals when they are available and the on-site show!
If you have questions about this process please contact our Customer Experience Team at 1.800.451.2817.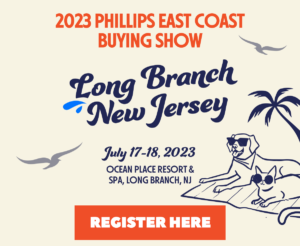 Ever wonder what the inside of a Phillips Buying Show might look like? Here is a glimpse of last year's East Coast show.